What you need to know
Map of Xiamen- China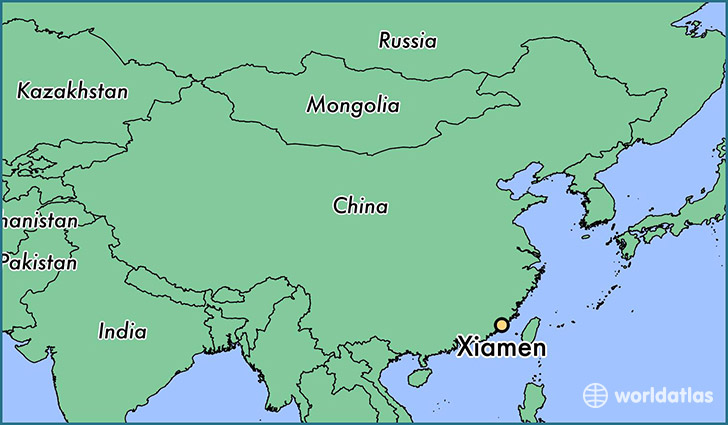 Xiamen, formerly romanized as Amoy, is a sub-provincial city in southeastern Fujian, China, beside the Taiwan Strait. It is divided into six districts: Huli, Siming, Jimei, Tong'an, Haicang, and Xiang'an. Altogether, these cover an area of 1,699.39 square kilometers (656.14 sq mi) with a population of 3,531,347 as of 2010. The urbanized area of the city has spread from its original island to include parts of all six of its districts, with a total population of 1,861,289. This area connects to Quanzhou in the north and Zhangzhou in the west, making up a metropolis of more than five million people. The Jinmen or Kinmen Islands administered by the Republic of China lie less than 6 kilometers (4 mi) away.
Xiamen Island was considered to possess one of the world's great natural harbors in Yundang Bay, but Fujian's international trade was long restricted to Quanzhou or to Guangzhou in Guangdong. Due to the siltification of Quanzhou's harbor, the British insisted that Xiamen be opened to foreign trade in the treaty that ended the First Opium War in 1842. Under the Qing, both before and after the war, there was large-scale emigration of Chinese from southern Fujian spread Hokkien-speaking communities to Singapore, Malaysia's Penang, Indonesia's Riau Province and the Philippines. The overseas Chinese continue to support Xiamen's educational and cultural institutions. As part of China's Opening Up Policy under Deng Xiaoping, Xiamen became one of the original four special economic zones opened to foreign investment and trade in the early 1980s. Its former harbor was enclosed using land excavated during the city's expansion.
The city is known for its mild climate, Hoklo influence and colonial architecture, as well as its relatively low pollution. In 2006, Xiamen was ranked as China's 2nd-"most suitable city for living", as well as China's "most romantic leisure city" in 2011.
Population: 3.531 million (2010)
Languages
The local vernacular is Xiamenese (also known as Amoynese), a dialect of Hokkien which is part of the Southern Min languages. Amoy is widely used and understood across the southern region of Fujian province as well as overseas. While it is widely spoken in and around Xiamen, the Amoy dialect has no official status, and the official language of all government business is Mandarin. The English words "Amoy", "tea" (茶; tê), "cumshaw" (感謝; kám-siā), "pekoe" (白毫; pe̍h-hô), kowtow (磕頭; khàu-thâu), "ketchup" (茄汁; kiô-chap) and possibly "Japan" (日本; Ji̍t-pún), originated from Amoy dialect.
Currency
Currency of Xiamen. The yuan (also referred to as renminbi yuan) is China's official currency. One yuan (abbreviation CNY; symbol ¥) comprises 10 jiao, or 100 fen. Banknotes are found in circulation in denominations of ¥100, 50, 20, 10, 5, 2 and 1, and 5, 2 and 1 jiao.
Geography
Xiamen is a sub-provincial city in southeastern Fujian whose urban core grew up from the port of Xiamen on southern Xiamen Island, now located within Siming District. It now also includes Gulangyu Island and the rugged coast of the mainland from the northeast bank of the Jiulong River in the west to the islands of Xiang'an in the east. Xiamen Island lies about one degree north of the Tropic of Cancer. It is divided between Huli District in the north and Siming District in the south. Siming also includes Gulangyu. Its mainland territory is divided among Haicang, Jimei, Tong'an, and Xiang'an districts.
In the 19th century, Xiamen's harbor on Yundang Bay was considered one of the world's great natural harbors. Land reclamation has since been used to fill in the mouth of this inlet, turning it into Siming District's Yundang Lake. The municipal government is located on other reclaimed land beside it.
The nearest point of Lieyu in the Jinmen Islands, still controlled by the Republic of China from Taiwan, lies only 6 kilometers (4 mi) off Xiamen Island.
Climate
Xiamen has a monsoonal humid subtropical climate (Köppen Cfa), characterised by long, hot and humid summers (but moderate compared to much of the rest of the province) and short, mild and dry winters. The warmest month is July, with a 24-hour average of 27.8 °C (82.0 °F), and oddly, the coolest month is February, averaging 12.4 °C (54.3 °F); the annual mean is 20.42 °C (68.8 °F). Extremes since 1951 have ranged from 1.5 °C (35 °F) on 29 December 1991 to 39.2 °C (103 °F) on 20 July 2007. Spring, both by humidity and percentage of sunshine, is the dampest season but typhoons in late summer and early autumn can make the latter period wetter overall. Summer and autumn are marked by comparatively sunny conditions, while autumn is warm and dry. The annual rainfall is 1,350 millimeters (53 in). With monthly percent possible sunshine ranging from 24% in March to 56% in July, the city receives 1,853 hours of bright sunshine annually. Frost occurs very rarely, and the last snowfall in the city took place in January 1893, when snow also fell at Guangzhou, Macau, in the inland parts of Hong Kong and in the hills of Taipei.
The area is known within China for its relatively low pollution.
Religion
In the 19th century, Xiamen proper had two Dutch Reformed[e] and two LMS churches.[20] Xiamen Island was home to three Dutch Reformed missions at "Kang-thau", "Kio-than", and "Chhan-chhu-oa".
Culture
Xiamen is famed for its music, puppet shows, Gezi Opera, and temple celebration events.
Cuisine
As with much of southern China, the staple foods of Xiamen have long been rice, seafood, pork, sweet potatoes, various pickled vegetables, and bok choy. Its traditional dishes form a branch of southern Fujianese cuisine, with Taiwanese influence. It is particularly well known within China for its street food and snacks. A local specialty is worm jelly (t 土笋凍, s 土笋冻, tǔsǔndòng), a gelatin made from a kind of marine peanut worm.
Transportation
Local transportation
The Gaoji Causeway, four main road bridges (the Jimei, Xiamen, Xinglin, and Haicang Bridges), and the Xiangan undersea tunnel link Xiamen Island with the mainland.
The main forms of public transportation in Xiamen are bus and bus rapid transit (BRT). Xiamen's BRT system features a dedicated bus-only closed road system with stations and ticketing system similar to light rail. Most of the 115-kilometer (71 mi) BRT network consist of bus lanes along expressways and elevated BRT viaducts on Xiamen Island. BRT routes have no traffic lights and travel speed is limited by design to 60 kilometers per hour (37 mph). Five BRT routes are currently in service: BRT-1 Route, BRT-2 Route, Huandao Avenue BRT Route, Chenggong Avenue BRT Route and Connecting BRT Route. The fare is 0.6 RMB per km for the air-conditioned busses. The BRT is supplemented by 20 shuttle bus services that connect nearby places to the BRT stations. The shuttle bus service has a flat rate of 0.5 RMB. Fare discount is available when pre-paid e-card is used.
Taxis can be easily hailed in most areas of the city. Bicycles are commonly used by residents, especially on Xiamen Island. Unlike many Chinese cities, motorcycles, mopeds, tricycles, and wooden handcarts are not permitted in Xiamen. The city has upheld the ban on these vehicles since the 1990s. Electric bikes are permitted with proper licensing and obedience of traffic laws. On the small island of Gulangyu off Xiamen Island, automobiles are also banned.
Xiamen Metro has been under construction since 2013 and the first line is scheduled to start operation in 2017. A system of three lines has been approved so far, with plans to eventually expand to six lines including service to surrounding suburban areas.
Road
The Fuzhou-Xiamen and Zhangzhou-Xiamen Express Highways link Xiamen with the highway network of Fujian and the neighboring provinces of Guangdong, Jiangxi and Zhejiang. There are also container freight services available between Xiamen and Shenzhen and Hong Kong.
Railways
Xiamen is served by the Yingtan-Xiamen Railway, Longyan-Xiamen Railway and the Fuzhou-Xiamen High-Speed Railway, which are connected to China's national railway network. Direct passenger trains are available from Xiamen to Shanghai, Nanjing, Hefei, Fuzhou, Nanchang and Yingtan. The completion of the Xiamen-Shenzhen High-Speed Railway in late 2013 expanded train services to destinations to the west and southwest.
The Xiamen Railway Station on the island of Xiamen is connected to the mainland by a railway bridge.
The Xiamen North Railway Station is located in Jimei District.
The Xiamen East Railway Station will be located in Xiang'an District.
Air
The Xiamen Gaoqi International Airport in northeastern Xiamen Island is a main air hub in East China with flights to over 90 domestic and international destinations. Among airports in China, Xiamen ranked among the top 11 for passenger traffic, top 8 for cargo traffic and top 10 for air traffic. It can handle 27 million passengers annually. The airport is the headquarters hub of Xiamen Airlines.
Xiamen has direct flights to most cities in China, Hong Kong, Macao, Taiwan, and major cities in east Asia like Tokyo, Osaka, Seoul. Intercontinental flights to Amsterdam, Sydney, Melbourne, Vancouver, Seattle(stopover Shenzhen), Los Angeles have been started from 2011. Xiamen also hold a strong network to southeast Asia cities like, Bangkok, Kuala Lumpur, Manila, Jakarta, Cebu and Singapore, to server the large communities of southern Fujian's overseas diaspora and the increasing tourism flows.
Sea
Ferries
Xiamen has passenger ferry service to cities along the coast of China as well as the neighbouring island of Kinmen (Jinmen) to the east, which is administered by the Republic of China on Taiwan. These ferries are all served from the Wutong Ferry Terminal to Shuitou Pier, Kinmen on the north-east side of the Xiamen Island (quite distant from downtown Xiamen), ferries to Jinmen take 60 minutes. There are facilities in both directions allowing for quick transfers between Xiamen Gaoqi Airport (for Mainland destinations) and Kinmen Airport (for Taiwanese destinations), which is very popular with large tour groups.
The Heping Wharf Ferry Terminal on the south-west side of Xiamen Island offers short 5 minute boat rides to the island of Gulangyu however this is only accessible by Xiamen residents. Tourists and non-locals must now take a longer 20 minute ferry ride from the main International Ferry Terminal, also called the Dongdu International Terminal, on the south-west side of Xiamen Island., as of 20 October 2014 with a fare increase from 8RMB to 35RMB. This has been in order to reduce tourist numbers accessing the island in an effort to conserve it. This terminal used to have ferries, taking 90 minutes, to Kinmen Island but were ceased in 2014.
Port
The historic port of Xiamen in Yundang Bay on the southwest side of Xiamen Island has been converted into a lake by land reclamation projects.
The present-day Port of Xiamen lies on the northwestern shore of Xiamen Island, opposite its airport, and at eleven other sites around Xiamen Bay and along the Jiulong estuary, including the neighboring jurisdiction of Zhangzhou. The port facilities are interconnected by ship, road, and rail. The port has been one of the busiest in China since the early 1980s and is serviced by all of the 20 largest shipping lines in the world. In 2016, Xiamen ranked among the top 15 ports in the world for container freight.
The natural coastline in the port area is 64.5 kilometers (40 mi) while the water is over 12 meters (39 ft) in depth. There are 81 berths, including 16 deep-water berths, of which 6 operate containers of over 10,000 tonnes. Among other cargoes handled, Xiamen is the world's largest supply base for raw tungsten materials and sunglasses, exporting 120 million pairs each year.
Xiamen is also an important base in Fujian province for making medium-sized and large modern container vessels and yachts.